New Year, New Goals!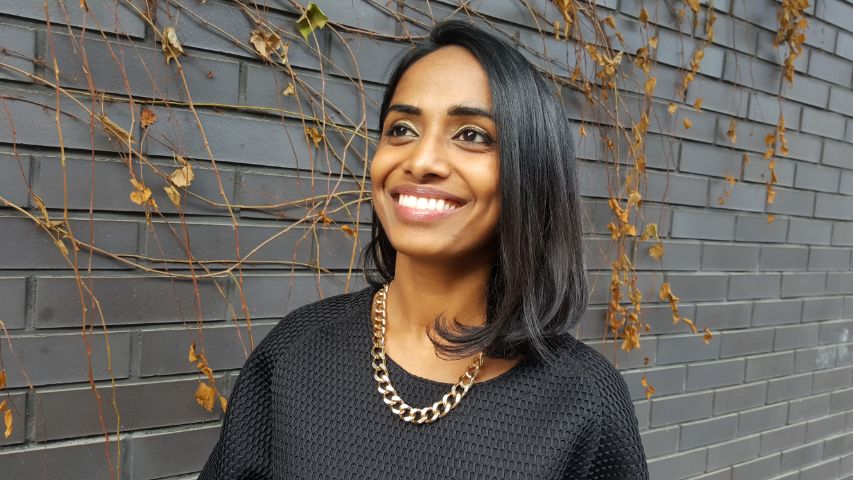 Who isn't excited about the possibilities of 2017! I hope everyone has had a wonderful and peaceful start to the New Year. I have been busy after returning from my 3-week long rest and relaxation vacation in India. One of my goals during my trip to India was to find my goals, to spend time thinking about what I want the New Year to bring and what goals could I accomplish. I have this habit like most people to think about all the amazing things I would like to do and then settle back into my routine and then end up making a list of goals for the next year and so on, without having achieved most of the ones I set out in the current year. Let's admit it, we are all guilty of this!
Everyone has their own personal goals and wishes that they love to fulfil. To be honest, without goals there would be nothing to look forward to each day. Nothing, that will push you to go out there and fulfil your desires. New Year resolutions are always on the high at the beginning of the year. Many people see it as a chance to change something in their lives that they are currently not happy with or they know they could do better.
My goals this year are not too many, mostly personal and revolve around the topics of consistency and discipline. I have read somewhere that; it is always good to have a separate list of goals in different aspects of your life – for some people it could be to improve relationship goals, some have financial goals, personal empowerment goals, etc. That way you are setting yourself up for success in different areas of your life. After giving it a lot of thought I have decided on a few that I plan to see through this year. I have listed my top 10 goals after much thought. First I had put down only 5 which I felt most strongly about, but then just added 5 more to the list, so I have I it here as proof and can be held accountable in the days and months to come 🙂 All pictures in this post have no relation to the goals, but I LOVE the way they turned out! Photography credit goes to my boyfriend who is always so supportive of my blogging.
Without further ado here are my 2017 goals
1. Meditate Daily
A very personal goal of mine this year is to meditate daily for the next 365 days to come. There are untold benefits of meditation and I would love to tap into this storehouse of self-health. Meditation is the key to happiness, to stay calm, to help shift the perspective, to help lead a more positive outlook and attitude in life. I had already started at the beginning of December and decided to practice this first thing in the morning when I wake up even when I was in India on holiday! I use the Calm App on the day to day basis (the free version of course) and also when I go to bed I listen to the Sleep Stories, which help me to relax and unwind before dosing off to sleep! I have been waking up as early as 6 am nowadays even before my alarm goes off, so I can dedicate a few minutes towards this goal. As of this morning, I just got a new badge on the app that I completed 48th session, that's a month and a half already, as I practice it every day. Whoo hoo, \o/ feeling elated 🙂
2. Health & Fitness

On top of my list, this year is to be more proactive in terms of my health and fitness. I have struggled all the time in the past and even now with the fat around my belly as I tend to indulge my sweet tooth even after working so hard at the gym. I am not typically overweight or obese in any way but I have been influenced by social media and the new age of fitness. I follow some very smart and talented women in fitness on Instagram like Kayla Itsines (BBG)and Cassey Ho (Blogilates) who inspire me in so many ways.  I have decided this year will be my best year in terms of health and fitness and my goal of attaining a nice chiselled 6 pack. Since I write it here I must also set myself some strict deadlines, let's say by the end of 3 months starting today? Of course, I will take progress photos along the way and post to my Instagram or Snapchat feed now and again. My hope is to stay focused and that is where consistency and discipline must kick in. I have invested in a Nutri Bullet sort of blender, not the original of course but one by a brand called Hoffen (popular in Poland) and I hope to have a smoothie for breakfast every single day.
3. Travel, Travel, Travel

I love to travel. I have been fortunate enough to visit some exotic places already and would love to travel more this year. I would like to see more of Poland, for example, something that I have taken for granted. I have settled in Krakow and under my shell so well that I have only been to a handful of places here like Warsaw, the Tri-city and the mountainside. I have not yet been to Wroclaw, Lodz, Poznan, Mazury and many more cities and towns. Poland has had a very rich history of royals and therefore there is much more to see and do in this great nation. Also I would love to travel more to other European cities, not just the tourist hot spots and beaches in summer, where one can only spend time burning and scorching oneself on the shores, rather I would love to explore most of the ancient cities and towns and the flora and fauna and nature trails if possible. Even if its just for the weekend I would love to go somewhere and make memories. I have a separate page on my site dedicated to Weekend Getaways and that's exactly what I plan to do, go on a short break or do something invigorating on the weekends to enrich my mind.
4. Grow my blog
I know this should have been point 1 on my list, but personal growth is more important to me 🙂 Of course, I plan to expand and grow my posts and number of readers this year. I wish to be more proactive and take initiative on my blog posts and content I create. I hope to do more beauty and fashion posts and throw in some haul posts as well. Having said that, my goal this year is to shop wisely only nice key pieces that would enhance my wardrobe and not bog it down. I am starting off this year on a right foot – Dry January seems like a nice idea it means no shopping for any new items of clothing in January. I already shopped a lot during my recent visit to India so I can hold my own this month. I am no beauty expert but I purchased a lot of makeup and I can't wait to try them out and share them with you as well. So for now even though there are a lot of sales going on. I am going to stay away for as long as I can (gonna be tough!)
5. Learn the Polish Language
I have been living for 4 years in Krakow and even though now I can fairly understand what someone communicates to me I am still not able to reply back to a solid and complete sentence. My goal is to spend any amount of time that I find fit, be it 5 minutes to up to an hour a day to learn some Polish words/phrases. I have a plan to learn one new verb declination per day and gradually build up my knowledge base in this aspect first. This will help me gain some mastery over singular and plural aspects of each verb. Later on in the year I plan to enroll in a proper language learning center to further my knowledge and also  start talking more in Polish with my nice boyfriend, who happens to be Polish
6. Hang out with my friends more

I love spending time with my friends, something I don't do often and it bothers me a bit that we don't go out or hang out often. Last year I was all about saving as I had to save some money for my new flat back in India, so I did not go out much and we ended up meeting each other not so often. I mean we all live in the same city, we make plans to meet up, but then end up busy with our own lives that we forget to spend time with each other. While I was in India I met up with some of my schoolmates from nearly 20 years ago. I made it a point to meet them as after all we spent our childhoods together on the same benches in the classroom. It was just simply magical, like time stood still and no one seemed to have changed a lot. So at least this year, I would like to try and make the effort to hang out more with my near and dear ones in Krakow, maybe have some friends over at my tiny studio apartment and cook them a nice meal from my hometown or go somewhere with them on a nice short road trip. We shall see how it goes!
7. Flexibility
No not in a contortionist sort of way, but rather just be more bendable, if that makes sense. I would in addition to my fitness goals also like to be more flexible i.e spend more time stretching and doing some yoga. Stretching is good for the body and yoga helps in this aspect and I must say will go hand in hand with my mediation goal. Possibly I will challenge myself to learn to do the splits! Anything is possible 🙂
8. Drink lots of water

I know this might seem like an unlikely goal, but to be honest with myself I barely drink a liter a day! Which is surprising but I just don't feel like drinking more than I actually should. I must change this and try to drink as much water as I can per day. It goes without saying that it goes well with my goals being healthy and strong.
9. Take care of the skin is in

Along with drinking plenty of water I have decided to invest for the first time in some creams and lotions and slather it on. Now that its winter, skin needs a lot more tender love and care. I have placed an order for Oriflame new NovAge skin line package and can't wait for it to arrive so I can test it out. The tagline of this skin range says 'It's not your years – it's how you wear them'. I will turn 35 this year, wowzie, so I better start taking care of my skin and my whole being right from today.
10. Start uploading some videos on my Youtube channel

This is the big one. I would like to step out of my shell and comfort zone and try to make videos about things I love or hate. I mean how hard could it be right! Being here in Krakow I have been just here to my self not putting much effort. I have become complacent and I hope that making videos will help change that. Now I am not expecting myself to be uploading high-quality content from the get-go, but everyone starts somewhere. There is hope for all of us 😀
So guys that is my top 10 goals for this year, for now. I have other minor ones which will change over time, but I will try to stick to these and work on them as much as possible. My hope is to also be a better person starting from today, to give more of myself to others, to give more to charity, to donate my old clothes rather than hoarding them and waiting for someone to buy them from me. I hope 2017 will be a lot of fun and hope to fulfill all my goals by end of the year. Wish me luck
What are your top 5 goals for 2017? Let me know in the comments below
xoxo
Doreen
Wearing one of my favorite Polish designer brand Misbhv top
Pull&Bear Boots
Necklace Six Accessories
---
---