2016 in retrospect and Cheers to 2017!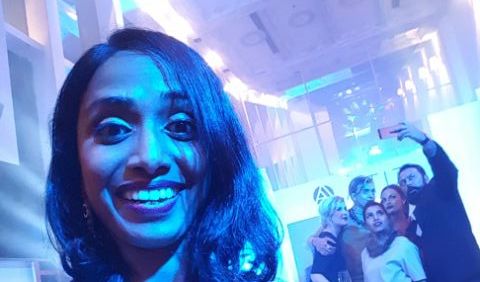 We are a week into the New Year and like most people, I too have a lot of resolutions and hopes and dreams and wishes I would like to fulfil this year. But in order to do that, I must first look back on the year that passed and reflects on what went well and what did not. Either way; both good and bad have kept me going on till now and I am happy to be alive in 2017!
The year 2016 in retrospect started out like any other New Year, with a resolution to work out and be fit. To this end, I had a goal in mind to lose the excess fat around my belly and wear a daring one-piece on the beaches of Goa, for my planned vacation there in March'16. I followed the BBG 2 Guides by Kayla Itsines, the global phenomenon and also added to this a semi-strict vegetarian diet. The diet part was easy as I used the season of Lent as an anchor. Usually, during Lent, I tend to give up meat, dairy and sweets completely. I worked out the guides 6 times a week and along with that did a workout challenge from my local gym's magazine, with a 30-day plan by the end of which I would do 30 Push Ups, 300 Squats, 200 Burpees and 300 second Plank. Long story short I achieved my goal \o/
In March I officially became a homeowner as well. I purchased a brand new flat way back in early 2010, even before I turned 30 an achievement in itself! The construction, however, was completed in 2015 and as I was in India for the first time in 3 years I considered having completed the registration once and for all. So yeah that is an all-time high. The flat is now also rented out to a nice couple.
The other goal was to run my first ever 10K in the month of June, which was a bit late to start training after my holidays in March. But none the less I trained hard and long for this race and ended up doing a test run of the entire distance a fortnight before the main race.
The official time of finish of the final race was 59 mins and some seconds. It was a night race and the usual theme was that of Fireflies, so needless to say everyone had lights sown into their costume. It was so much fun and I learnt a lot in terms of going when the going gets tough. Also, I ran my 2nd Krakow Business Run event which I have previously blogged about; needless to say I am taking a liking to running.
Blog-wise I think I spent much more time and energy on putting out good content on the blog. I have no professional photographer but my lovely boyfriend to help out. Since one of my goals was to write one article a week, I planned to diversify and not just do some outfit posts but to focus on my other interests which are to travel, to do some DIY's and crafting, painting etc. I have to say I have missed some deadlines but managed to keep afloat.
The last major event of the year was my 3 weeks' vacation off work was approved so I could go back to India and spend time with my family. Needless to say, it was a dream to be home in 35 degrees of heat for the first time in a long time, make a beautiful Raffaello cake, and treat my family to some nice Polish soups and other food, which I prepared myself. I spent quality time bonding with my lovely sister @skinnygirldiariez, attended a fashion launch, done a food review with her in a top-notch restaurant, snap-chatted from the back of a scooter of my hometown, meditated, read a very good book, shopped till I was out of money!(kidding), had the most amazing NYE party and all the delicious Indian food I could possibly eat. I feel like 2016 lived up to my expectations.
Like I said, in the beginning, I don't remember any lows of the year, as I wanted to have a more positive outlook on life. I am a firm believer in the power of positive thinking. I try to practice it every day and have a positive outlook on life in general. My next blog post will be about my 2017 goals. I know it will be a bit last to post but I want to give it some more thought and make some good plans before I commit to anything or something crazy.  Thank you for reading and cheers to many more blog posts in the New Year!
xoxo
Doreen
---
---