David Guetta Concert Experience
Never in my wildest dreams would I have thought that living in Poland, I would get to see the legendary DJ perform in the same city where I live.

We all know who David Guetta is right? He needs no further introduction, so I will skip on over to the good times at the concert. The event was scheduled to take place on the 27th of January 2018. I knew that he would be coming to Krakow already somewhere around late October, so I kept telling my boyfriend to check for the availability of the tickets as he is good at that sort of thing and I like to believe it is easier for him as the websites for booking tickets are always in the Polish language. If I have to book anything, I usually sit with the Google Translate open and I often end up going elsewhere on the internet. During the exchange of Christmas presents on Christmas day, I received a package that I thought at first was just mere wrapping paper neatly folded and I almost ripped it apart. But inside was a sheet of paper with the prints of what looked like the entry ticket to the David Guetta concert! It was one of the most thoughtful presents I have ever received.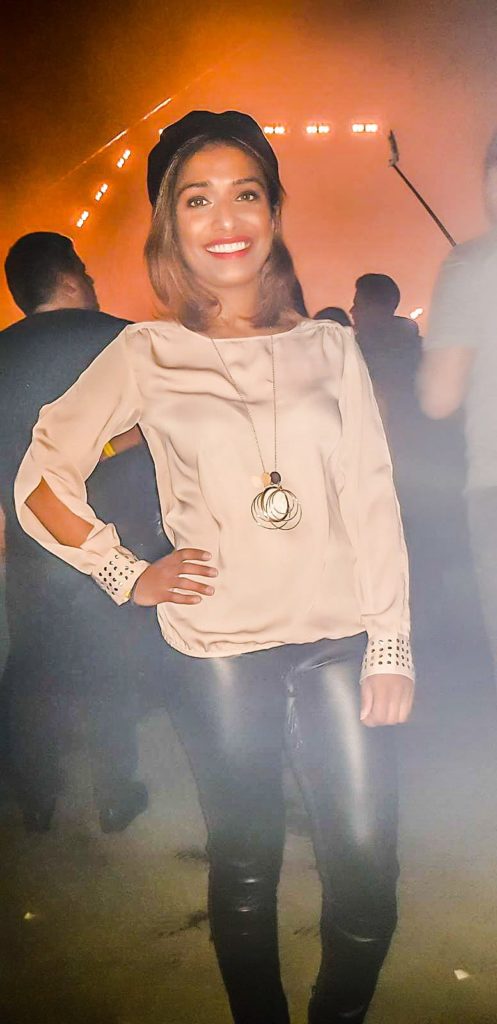 A few years ago, circa 2010, when I was in India at the time, one day at work, my elder sister messaged me about a contest on Facebook. It went something like this, enter for your chance to win a trip of a lifetime, party in Ibiza, an all-expenses-paid trip to the land of music, fun, sun and non-stop partying. All the contestant had to do, was send in a message to a number with an answer to this simple question, "Why I believe I should win this trip to Ibiza?". That's it, there was no like for like, follow for follow, follow back, tag someone etc.
At first, I thought ah this is not for me, I was no party animal back then. If I ever went out, it was with my sister as she was literally a party animal! Then at that point in time, I was reading a book, a well-known book, a fable that perhaps you too would have read. It was the story of a young Andalusian shepherd boy named Santiago. In the book, an old king tells Santiago that "when you really want something to happen, the whole universe will conspire so that your wish comes true".  It was this belief that made me enter the contest, even though I had next to zero chances of winning. It was my first taste of the power of the Law of Attraction, from the book – The Secret (2006). I had never read The Secret, up at that point in time.  I started to believe even before I entered the contest, that I would be in Ibiza, that I would win, how it would feel like if I actually won.
Lo and behold a week later the phone rang and I was chosen among thousands of entrants from across India and ended up winning! Of course, my party animal sister came along too. Back then David Guetta was already famous and he was headlining on Thursday's show and the resident DJ at club Pacha. It was there in Ibiza that I almost saw David Guetta on his F@*k Me I'm Famous Tour. Unfortunately, his show was not part of the prize, but I ended up seeing other shows of DJ's Swedish House Mafia, AntOine, Eric Morello and Bob Sinclair. 
Later on, when I moved to Krakow Poland, David Guetta was on a 4 city tour in India to raise money for a charity event. And as I was not there, I missed it. So, when I heard he was to come to Krakow, I knew I had to go. I mean I love his music and I especially love EDM. There are not many places in Krakow which cater to the EMD scene and only sometimes, there are some events which play one or two of his tracks.
I was gifted tickets to the Golden Circle, which meant we could literally walk right up front in front of the stage to see him. The crowds were huge and I think it was a sold-out event. Mind you parking can get a little tricky at the Arena during concerts unless you book the spot in advance on the Arena's website, otherwise, it is best to take the public transport to the venue as it is most convenient. The other supporting acts started at around half past 6 and included GROMEE, DEEPEND, HUGEL. We arrived at around 8:30 pm in time for David's part which was scheduled to start at 9 pm. We found a nice spot on the left side of the stage and I had a pretty good view of the stage as well. David Guetta played hit songs like When Love Takes Over, Love is Gone, Hey Mama, I got a feeling, Without You etc. During the performance, we were also able to walk right up to the front of the stage and get some close-up shots of David Guetta in his element. In spite of the huge crowds, the event went well. There were no unruly behaviour, no pushing and shoving. The security was top notch. Even leaving the Arena after the show was easy and we were able to exist within 15 minutes, in spite of all the cars and crowds around.

It was an amazing show! I danced my feet off and later when I came back home I noticed that my faux leather pants were slightly torn. The whole event was magical and the energy of the crowds electrifying. He is a man who lives to perform for his audience, but he seemed very down to earth. I really enjoyed the concert and cannot wait for another opportunity to go to his concert again.  I am grateful for this experience because as quoted in the book The Alchemist "when you really want something to happen, the whole universe will conspire so that your wish comes true".
Love
xoxo
Doreen
---
---