A Magical Stay in the Mountains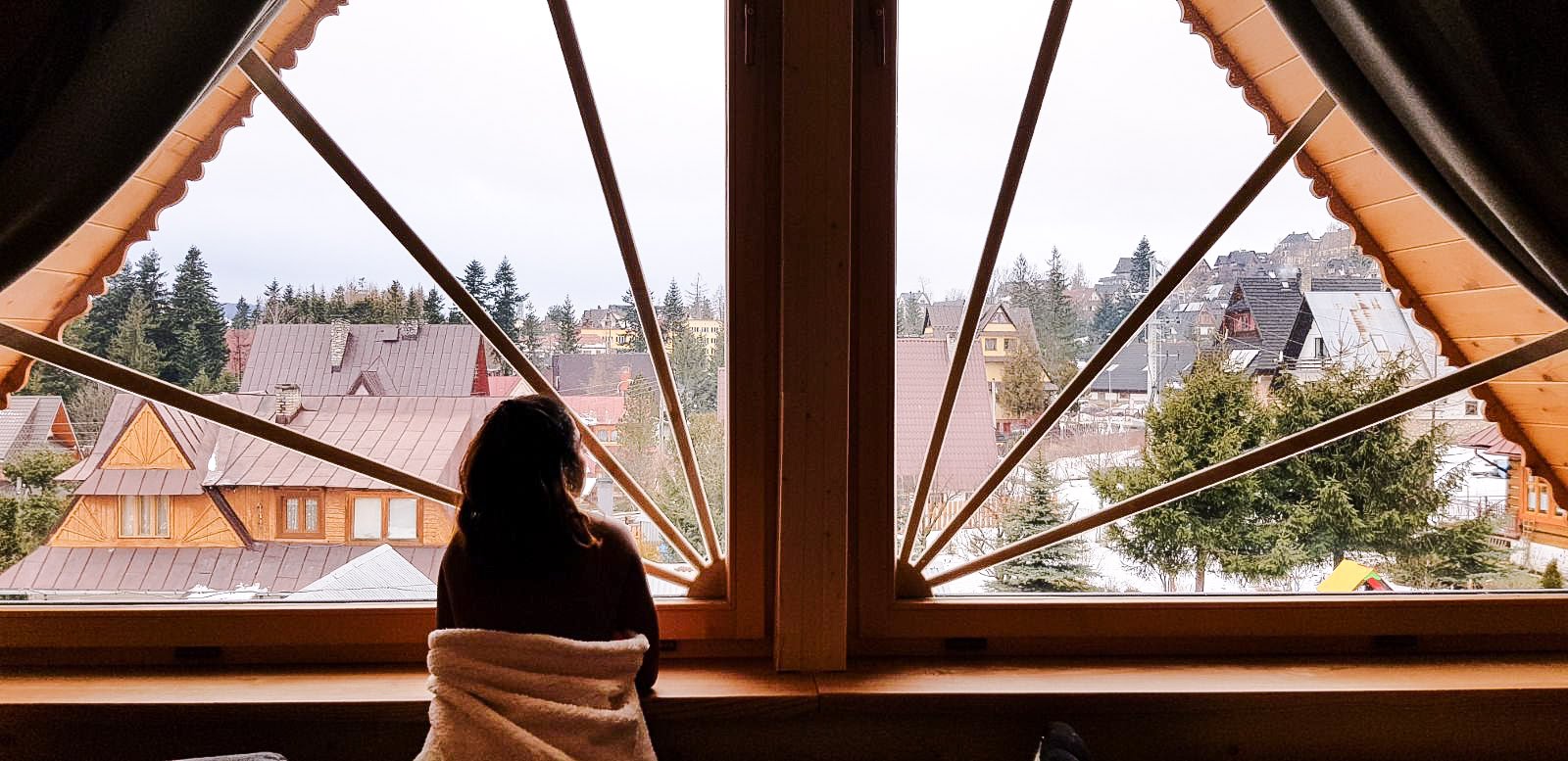 Scrolling through Pinterest with search words "Cosy, Winter, Cabin" and your page will light up with imagery of winter wonderlands and warm cosy fireplaces and wooden lodges covered in blankets of snow. It looks so dreamy and so magical, right! Lucky for us living in Krakow or the south of Poland, we are so close to the Polish side of the Tatra Mountains and it offers plenty of options to choose from in terms of places to stay or rent out during the chilly winter months.
Zakopane and High Tatras
The Tatras on the Polish side is also known as The Polish Alps! The range is 53 km long and takes up 785 sq km, the bulk of the Slovak territory. The Tatra Mountains are made up of three very distinct parts i.e. the Bielskie Tatras, the Western Tatras and the High Tatras. The High Tatras, with their dramatic sweeping views, steep peaks, sharp jagged rocks, deep valleys and crystal clear lakes are the most attractive among the three. On the other hand, the Western Tatras' lower slopes offer wider horizons with its surrounding areas covered in pine forests, wildlife here is diverse and even has a somewhat less demanding trails which are easier to scale.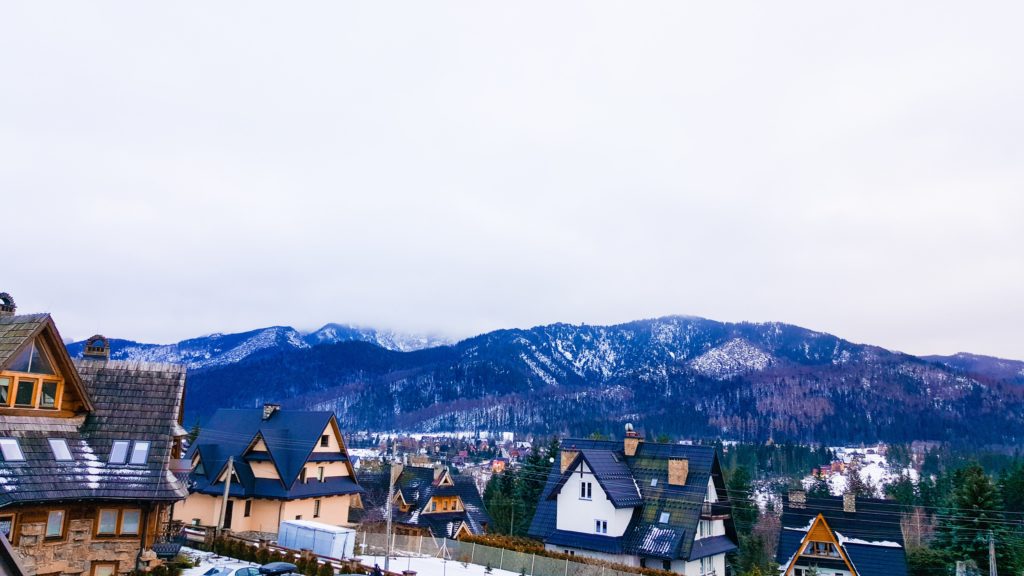 As I mentioned, it is very easy to find a lot of places on offer, but it can be a bit crazy and overwhelming during the peak season of winter months due to the fact that it is a winter holiday destination for many Poles and a few of its neighbours. The area is famous for ski slopes and resorts and hotels that offer families great options to spend their winter break. The first time I went with one of my girlfriends via a Groupon voucher which we purchased was in the month of Autumn. We found a lodge in one of the villages close to Zakopane which at the time had only one or two other guests. They had a huge indoor swimming pool and sauna. Each room had a balcony offering some beautiful mountain views. You can read all about my experience here in my previous post.
Delta Apartments – Koscielisko
When we attended the FIS Ski Jumping World Cup in January this year, my boyfriend and I wanted to stay in an apartment for a single night rather than in a hotel and we found a beautiful brand-new apartment by the group Delta Apartments Rezydencja Delta, near Koscielisko close to Zakopane's famous street Krupowki. There are about 5 apartments in the wooden house structure and ours was right on the top.
In spite of being brand new, it had quite a rustic feel to it with elements of the mountain life. The apartment has lamps and coat hangers that looked and resembled horns of deer, chairs covered in what seemed to me like Faux Fur, but I could be wrong! The piece de resistance has got to be the bedroom. It is a tiny loft through which you can barely crawl through and which opens up to a King-sized bed, the only way to get on the bed is from the foot side of the bed! There is only a tiny skylight on top of the bed, which I suppose you can open during the warm summer months.
The apartment is well heated with electronic heating and the kitchen was fully equipped with plates, dishes, glasses and other cooking utensils. The apartments are also fully furnished and offer a very romantic getaway, especially during winter months. On the lower floors, there were apartments suitable for families with children. Our apartment had a small cosy balcony overlooking the great big Tatra Mountains in the distance. Just thinking about it makes me want to pack my bags and head on over there and enjoy the last few days of winter. I would definitely want to go back there even in summer and spend a few days there just to explore the beautiful region.
Key Features of the Apartments
Apartment size: 30 m²
Facilities:
Hairdryer
Kitchenette
Balcony
Refrigerator
Ironing Facilities
Free toiletries
Dishwasher
Washing Machine
Extra Long Beds (> 2 metres)
Heating
Bath or Shower
Flat-screen TV
Hardwood/Parquet floors
Alarm clock
Dining area
Electric kettle
Kitchenware
Wardrobe/Closet
Stovetop
Cleaning products
Towels
Linen
Children's high chair
Drying rack for clothing
Sofa bed
Free WiFi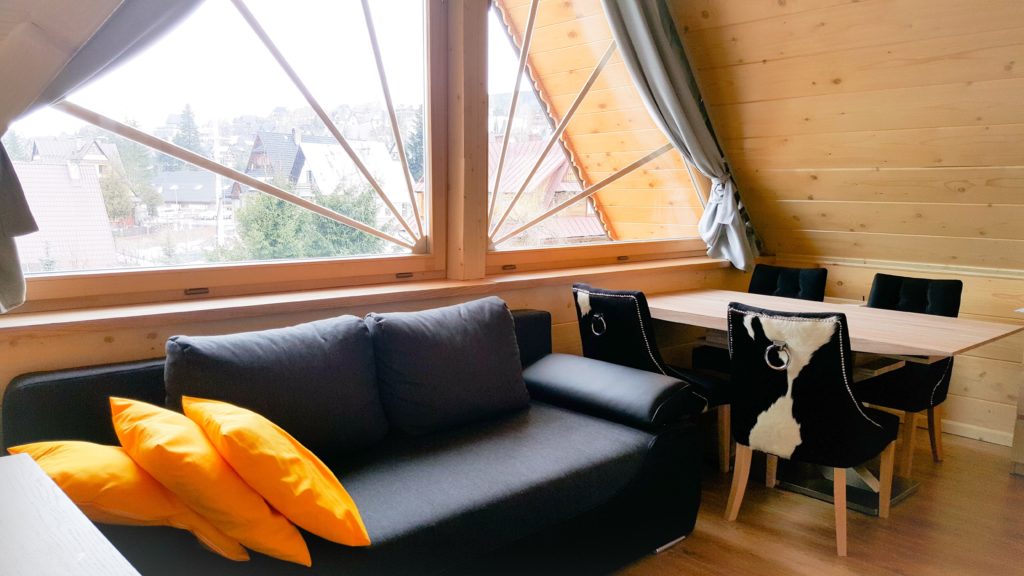 The thing I loved most about the apartment was how warm and cosy it was. It is so beautiful and well furnished with bright yellow throw pillows on the sofa-bed. The huge high windows overlooked the picturesque village down on the one side. The backdrop of the distant mountains covered in snow with hints of green sticking out on the balcony side. We visited just after Christmas time, so there was still the Christmas tree (plastic one) with lights, which made the experience even more special at night time.
We were able to cook our own meals at the apartment. For dinner, we actually prepared a traditional Polish pasta recipe of spinach and shrimps in white wine sauce and took it with us, as we did not know what to expect. All we had to do was to heat it up in the evening for dinner. The only downside about this trip was that we forgot to take some alcohol with us, like a bottle of wine or something, as we later found out driving through the village that there were no shops open after 8 pm and even if they were, they did not sell any alcohol! The next morning we made a nice English breakfast for two, as we came well prepared with all the ingredients. Unfortunately, we could not enjoy our meals on the balcony outside as it was freezing.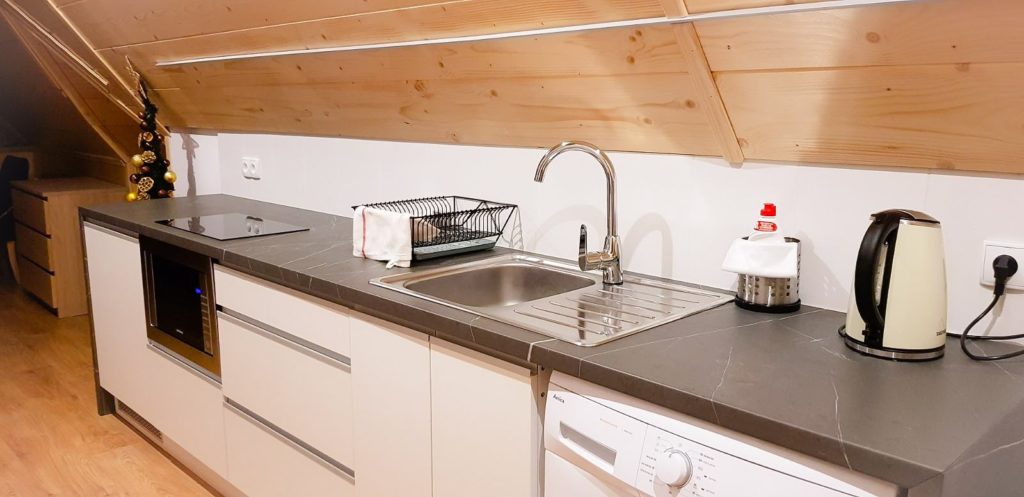 The toilette had toiletries and a hairdryer with extra towels which were laid on the bed for some reason and I did not see them there and was the first to go shower. Lucky as we had planned a visit to a nearby Termy, I had my own towel. There was also a mini heater next to the toilet where you sat to do your business which made it even comfortable after a nice shower. We did not use the washing machine as we were there just for one night, but it seems this place would be great for a long-term stay and especially for a group of friends or family.
xoxo
Doreen
---
---