Fascinating Bright & Colourful Folk Art Painting's at Zalipie You Need To See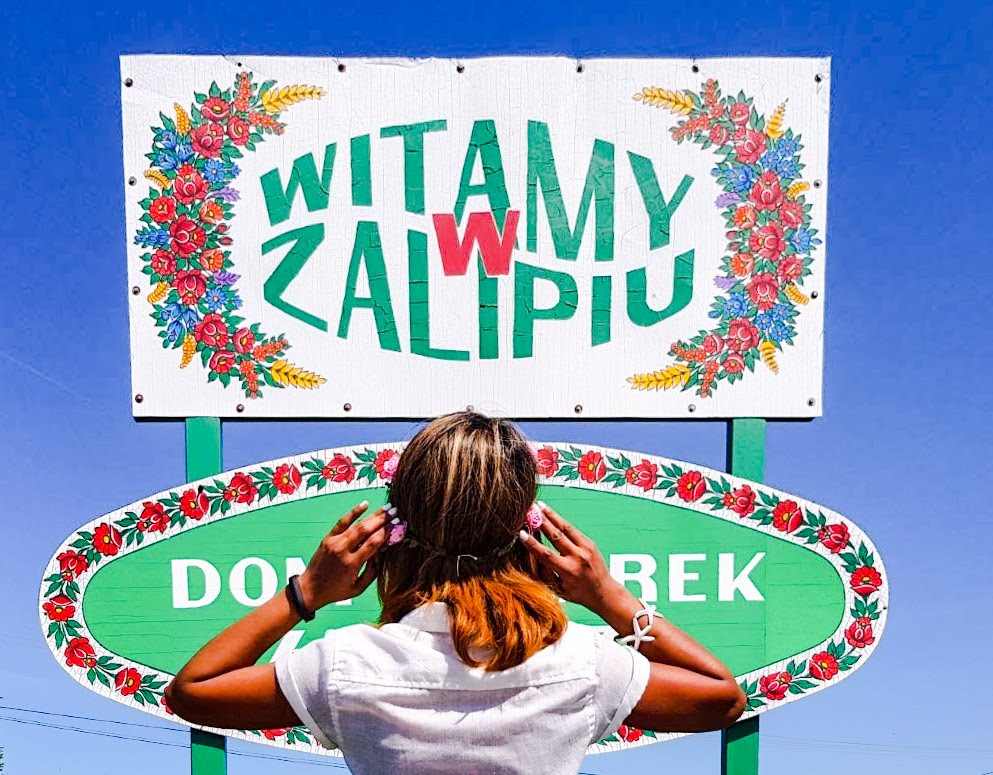 During the first week of May, there was a very long weekend here in Poland. There were two national holidays in between the week and this led to many people taking consecutive days off. If you follow me on Instagram, you would have seen that during those holidays I was attending a two-day International Blogger Summit, hosted by Trablin an Influencer Marketing and Tourism PR agency. During the summit, I had the chance to meet renowned Instagrammer Aggie Lal from Travel_Inhershoes. I also met many other international bloggers and like-minded travel enthusiasts. After the event, I had also managed to head out on a small road trip to the little but famous village of Zalipie.
HAPPY TRIPPY
Who here does not enjoy long drives? I personally don't drive a car yet, but ever since I was little, my father used to drop me and my older sister to school. I always wanted to sit in the front passengers' seat next to him, whenever we went to the supermarket, to the park, to visit our relatives. When we were later in India my friends and me from work used to sometimes organize weekend trips outside of Bangalore, just to go out of the city and enjoy nature. One of my fondest memories was a trip to Wayanad in God's Own Country, Kerala. I remember it like it was yesterday.
Since I love the idea of road trips and I plan on visiting many nearby places around Krakow, like Lanckorona or Kryspinow, I have decided to share my thoughts on such places on my blog under a new section under Travel called- Day Trips from Krakow. What do you think?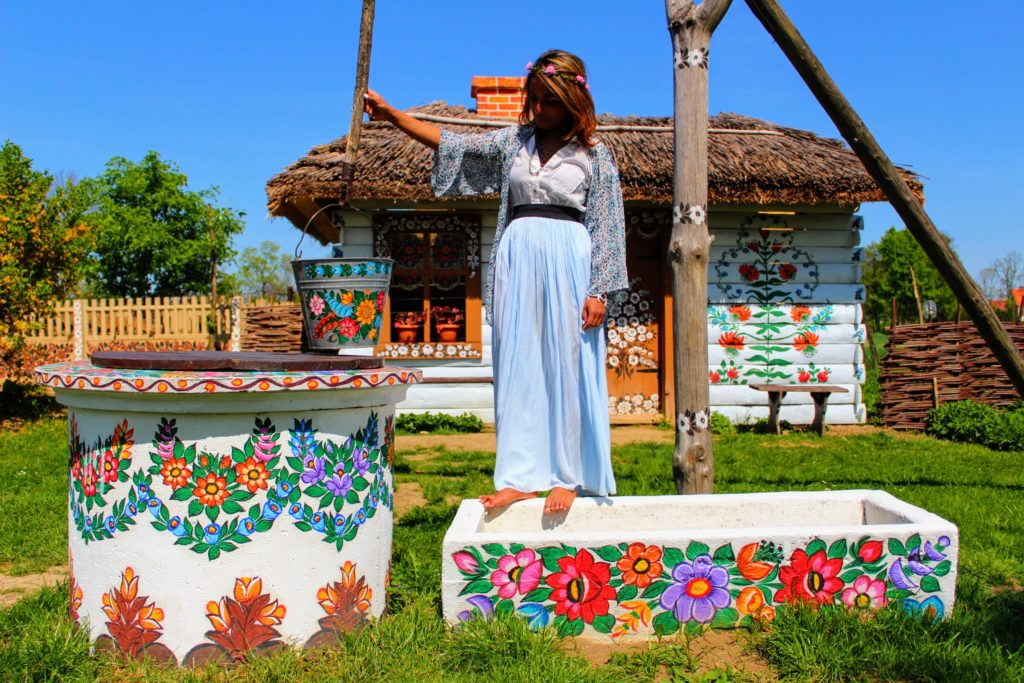 zALIPIE (ZA-LI-PEE-YAY)
That's how it is pronounced, with the Yay at the end 🙂 Now close your eyes for a second and imagine a garden, full of tens of thousands of beautiful flowers in all shapes, sizes and colours. Now imagine all the flowers on the houses, walls, furniture, barns and fences, everywhere you look! Doesn't it look amazing? This is what I imagined when I heard of this village for the very first time. Ok, it is not quite the picture I painted, but none the less Zalipie is a village in the Dąbrowa County, Lesser Poland Voivodeship, that is one of the most popular villages in East of Poland, famous for its cottages hand painted with flower motifs.
HOW TO GET THERE
It is located approximately 7 kilometres (4 miles) west of Olesno, 13km (8mi) north-west of Dąbrowa Tarnowska, and 68 km (42 mi) east of Krakow.  The easiest and fastest way to get there is by car and a good navigation/GPS system. The drive from Krakow takes about an hour and a half and en-route you can take a pit stop at Dąbrowa Tarnowska to take a look at their beautiful church-The Church of Our Lady of Scapular. It is enormous! It has huge columns on 3 sides and a huge dome that resembles St. Paul's Cathedral in London.
What to expect
In Zalipie, we were expecting to see house after house, covered in beautiful hand paintings. But we were, in reality, disappointed as we drove into the village, we had to literally squint our eyes and try to find them. This is because as we later learned, there are currently only around 20 painted houses left in the village! This type of ornamentation also appeared in other villages of Powiśle Dąbrowskie in the area located in the fork of the Vistula and Dunajec on the left side of it. The works of Zalipian artists can be admired, among others in the Farmyard of Felicja Curyłowa (Curry-wo-wa), which is a branch of the Tarnów Ethnographic Museum and in the Municipal Cultural Center "Dom Malarek" in Zalipie, established in 1978. 
keeping the heritage alive
I managed to visit a nice elderly woman from the village probably in her 50's or 60's whose 16-year-old son also helps her run a souvenir shop/museum in her own home. As I was there on a Sunday the Dom-Maralek was closed. Only passers-by were a few tourists. The lady told us that the practice of painting patterns on houses and commercial buildings had its origin in the time of smoke huts. There was no chimney in them and the smoke from the hearth escaped through the opening in the roof. The walls inside the hut got covered in soot. To lighten the interiors, the housewives painted white spots on the walls with "lime". In time this got substituted with the painting of plants and flowers. At the initiative of the District Museum in Tarnow, the "Painted Cottage" contest organized on the weekend after the feast of Corpus Christi is organized every year, whose main purpose is to maintain and develop the tradition of decorating houses and farm buildings with characteristic floral motifs.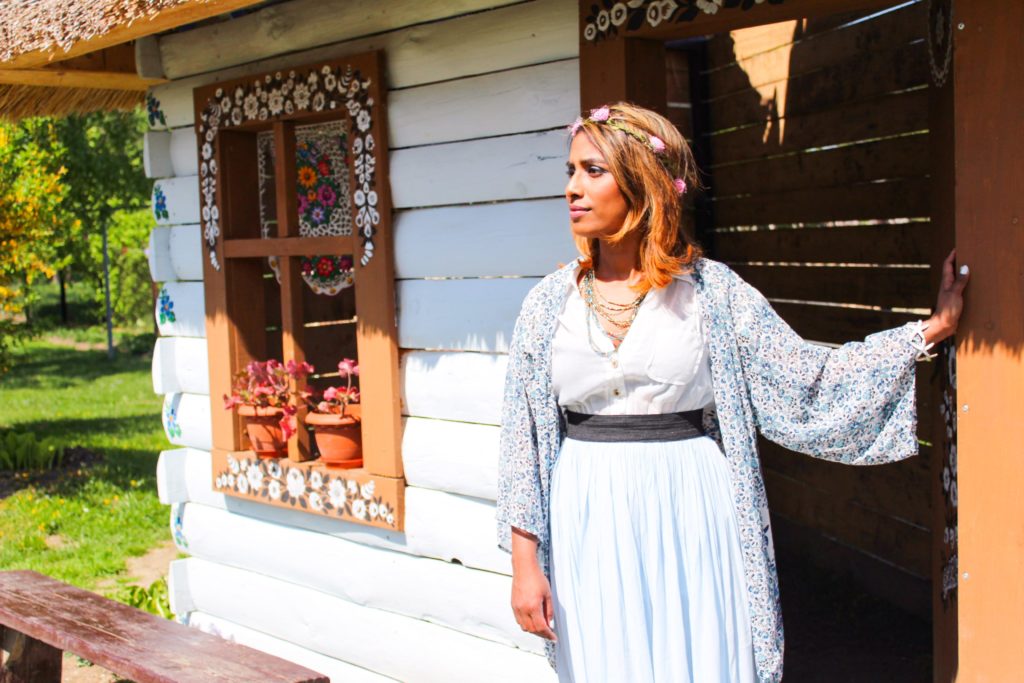 We also learned that currently there are only less than 100 people in the village who can paint. New houses cannot be painted as they are not made of wood. The woman was a bit saddened due to the fact that it is a dying art form. She made us promise that we would tell friends and family about the village and to go visit anytime.  For anyone interested, there are workshops held once in a while for teaching the art of painting the murals on wood or on Easter eggs. You can call or reserve your seat by logging on to the website  http://zagrodatrojniakow.pl/
Thank you for stopping by
xoxo
Doreen
---
---