Birthday Breakast the Irish Way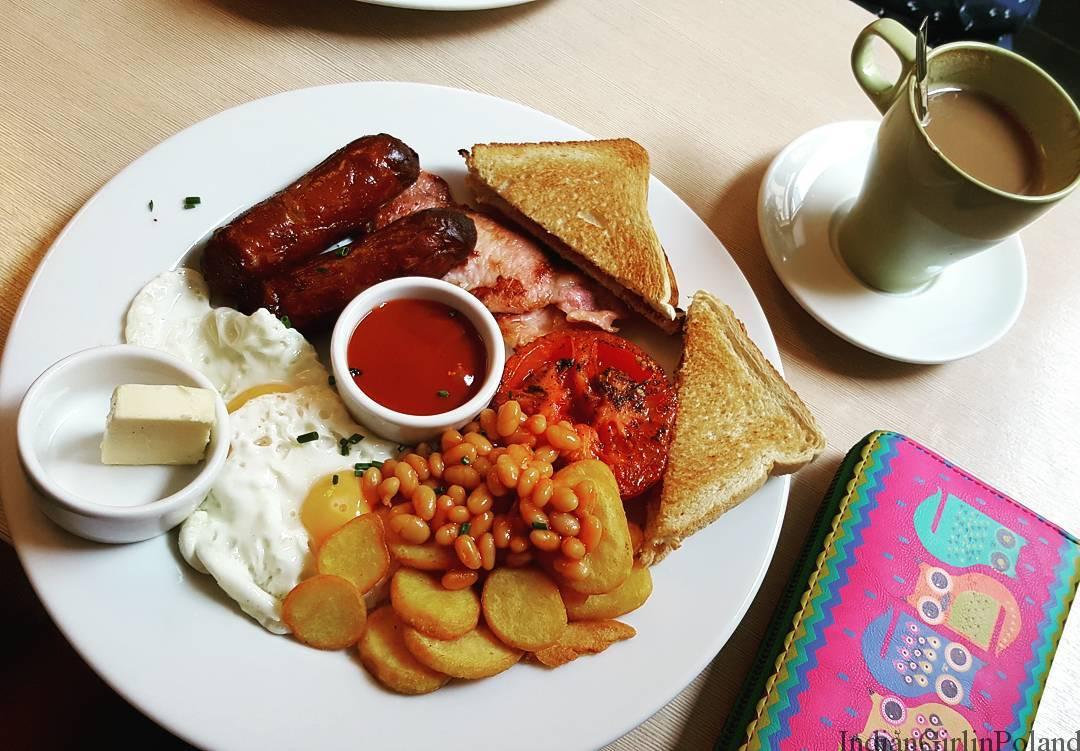 I love to treat myself to a good breakfast and proof of the pudding is on my Instagram, where I post my favourites with the hashtag #breakfastofchampions! I sometimes post my own creations and sometimes when I enjoy a great breakfast somewhere around town.
My birthday last week was no exception. It was a Saturday so I planned a very lazy day of indulging and doing absolutely nothing! A friend of mine and I headed out quite late I must say for breakfast. My initial plan was to go to Charlotte Chleb I Wino, a French-themed bistro located on Plac Szczepański 2, Kraków, where they serve delicious French pastry, croissants filled with homemade the fruit filling and Pain au chocolat along with other French-themed delights.  but then my friend suggested a good old hearty Irish breakfast, as I mentioned about English breakfast with baked beans (my favourite dish at breakfast time when I get the chance).
We reached there around half past 10, and it was full. Across the street is La Petite France but we had second thoughts of going there, as my friend insisted the breakfast at Milk Bar Tomasza was one of the best and cannot be missed. I saw an empty spot beside a couple close to the entrance door and asked them politely if we could sit beside them, to which they generously agreed, as there were no other empty seats. A few seconds after we sat down, a guy behind us close to the door, had just finished his breakfast and left, so we moved to the bigger table and not a second too soon; there was another couple who just entered and went and sat beside the couple we just left alone.
Back to our orders, my friend treated me to an Irish breakfast with a large coffee, since it was my birthday. The irony, considering back home in India when it is your birthday everyone asks you for a treat or sweets or cake (which ends up being smashed in your face!).
The Irish breakfast, in general, includes 2 eggs – sunny side up, 2 strips of bacon, a portion of baked beans, half a roasted tomato, hash browns, 2 slices of toast, and 2 sausages, condiments included a tiny slab of butter and some ketchup. It was really good food. In the end, it was too much for me and had to pass over some of my food to my friend. Hands up if you do that sometimes. I was able to eat everything except one sausage, which was nicely consumed by my friend so there was no waste of food.
I did not know about this place before, but now I do I plan to go there often to try other stuff from the menu as it all seemed a great hit among foreigners. All that food for a good price too!  So next time you are in Krakow do not forget to visit Milk Bar Tomasza on Tomasza street for a heartwarming breakfast. Unfortunately for this post, I have only one photograph and the best one.
I hope you will go check out Milkbar Tomasza and do let me know if you try anything else on their menu.
Wallet: Chumbak
xoxo
Doreen
---
---