32 hours in Vienna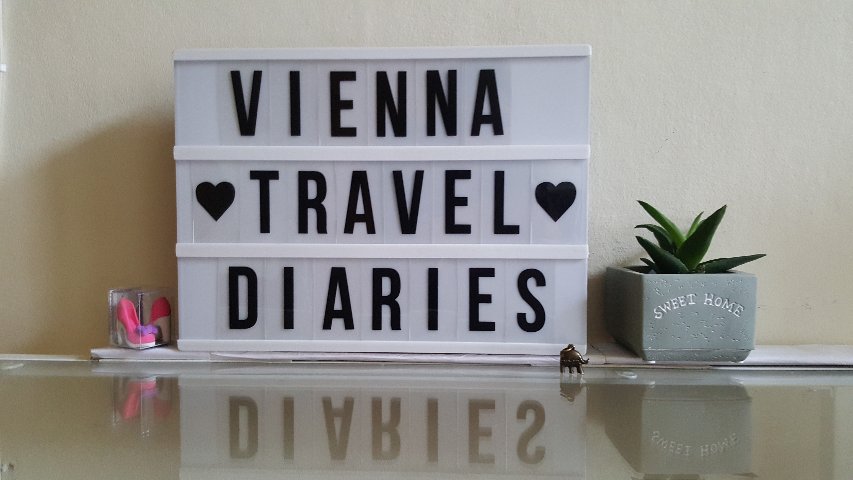 What do you do, when all you have is just 32 hours in a city you are visiting for the first time? The possibilities are endless. For me, it is about taking in the city and the culture as much as possible. Especially as one as historic and grand as Vienna! As I was travelling with my boyfriend who had already been to Vienna in the past who happens to speak fluent German it made our travels a bit easier, not that we depended much on the locals for directions or anything. The map of the city and the U-Bahn is all you need really, as getting around is quite easy.  A couple of rounds on the underground metro and you will already get the hang of it.
Upon our arrival at the bus station we already knew in advance that if we bought a 48-hour travel ticket, it would allow us to travel on all the public transport including metro, trams and buses.  The ticket machine was easy to use and accepts credit card too! Buying the ticket even though we were not going to use it for 3 days, saved us a lot of time and some money in repurchasing individual trip tickets. A note, if you have more time to spend in the city then walking is a good option too, depending which part of the city you have your accommodation.
As I mentioned in my previous post (here), we arrived at the hotel and were allowed to check-in to the room immediately upon arrival. After a quick breakfast and freshening up we headed out straight to Belvedere which was just a 5-minute walk from the hotel.  We spent there about 45 minutes to an hour walking around the gardens and taking photos and then walked along and made our way to Haus der Musik, on the way we passed by the Red Army Monument (Heldendenkmal der Roten Armee) located at Schwarzenbergplatz, which is a tribute to the Soviet War Heroes.
We walked along and made our way to the Vienna Opera (metro stop Karlz Platz) and also visited the Musikverein (the venue for New Year's concert and home to Vienna Philharmonic Orchestra). At this point, it was around 12 noon and we decided to take a quick metro ride down to St. Stephans Square (metro stop Stephansplatz) before coming back to Karlz Platz for lunch. Upon arrival at Stephansplatz, we saw the Stephansdom and also we looked around the square in front of the Cathedral, checked some souvenir shops for some ideas on what to buy for friends or family and then headed back to Karlzplatz for lunch(Note: there are plenty of fast food places around Stephansplatz, but we wanted to go to a particular restaurant and hence headed back)
Post lunch we headed straight to Hundertwasserhaus. It kind of reminds of the work of Gaudi and a must visit when in Vienna. On our way back we hopped on board a tram which took the ring route. We got off at Rathaus and explored the winter market and ice skating rink. We continued on foot and made our way to the Parliament building, took a couple of photos and then headed back to Stephansplatz.  Since the Cathedral was open, we decided to have a look inside and in turn, ended up going up the North Tower for just 5 Euro ticket price!  Once up we took pictures of the magnificent roof and the bell and had a full view of the entire city. It was freezing up there, but worth the trip. Back down again, we went ahead and purchased some souvenirs from a chocolate store that sole the famous Mozart logo Austrian chocolates and some liqueurs. The aroma in the shop was so enticing and mouthwatering that we could not resist and brought lots of chocolates for presents. As we spent the whole day walking we decided to call it an early night and picked up some food/takeaway to have back at the hotel.
The next day we started early, post breakfast we finished our packing and checked out of the hotel. As always, we left our luggage in the luggage room and headed to Schonbrunn for some sightseeing. I do recommend visiting Schonbrunn during summer as I imagine it is a great spot for a picnic. The palace is huge and the palace grounds breathtaking.  Right up on the top of the hill is the Gloriette, which has been converted into a little cafe. There is a zoo in the vicinity with exotic animals, which we skipped. After spending about two hours, we headed back to Stephansplatz, so I could pick up a few products from Lush Cosmetics, something for myself! We also had a quick lunch and headed back to the hotel.
Up to this point, we had not yet seen the Prater so while making our way to the bus station while interchanging metro lines, I managed to go outside the metro station for a while to see the Prater! It is so huge, its hard to miss. Needless to say, we made it in time for our bus, with 10 minutes to spare and were back in Poland safe and sound in time for bed.
Have a wonderful week ahead
xoxo
Doreen
---
---