Where I Stayed while in Wroclaw- Hotel Qubus Review
Hello Everyone!
I hope you enjoyed my last post on Wrocław and seeing all the pictures of the tiny Dwarves. I made a video vlog about my trip over on my youtube channel. Yes, I created a channel a while ago but did not upload anything to it till now, so I hope you will check it out. I am currently enjoying writing 'Where I Stayed' blog posts, as it is for me an interesting way to share my experiences and give you my readers a first-hand encounter. I plan to continue and make it a series for the future and in doing so, I can catalogue all my hotel experiences in one place. For now, let's start with the hotel I stayed in while visiting Wrocław!
We stayed at Qubus Hotel, in the heart of the city centre. This is a modern business hotel which has a chain of hotels across Poland. The first Qubus hotel opened in Poland in 1996 in Zielona Góra and subsequently over the years, it has been expanding and now has about 12 business hotels spread across some main cities in Poland. Qubus Hotel Wrocław is a 4-star hotel just 500 meters from the Main Market Square in Wrocław. It features a spa centre with a swimming pool, jacuzzi and a sauna. The rooms are modern and what one would expect from a business hotel. The hotel was opened in 2001 and it was formerly called Maria Magdalena Hotel. In 2003, it was renamed to Qubus Hotel.
The hotel offers:-
24-hour front desk
Parking
Swimming Pool
Free WiFi
Pets allowed
Restaurant
Fitness Room
Sauna
Multi-lingual staff(English and Polish)
In spite of arriving before check-in time, we were given the keys to our room. I really appreciate hotels, who can accommodate this request, especially when you are exhausted from your travels. The room was spacious and faced the church of Mary Magdalene and off the side, we could see a small part of the Town Hall in the centre. We had a TV (which we did not switch on), nice clean beds, shower gel and his and her toilets. The hotel has one restaurant – Maria Magdalene located on the ground floor and a bar right next to it. Included in our price of the hotel were breakfast and a 3-course dinner. We stayed here for only one night and so took this offer of dinner. For lunch and other refreshments, we ate outside at Vega and Masala Restaurant.
The hotels' website claims that guests can receive the highest standard of services at Qubus Hotel, no matter whether you are having a weekend getaway with your family, enjoying a special event or attending a business conference. Reservations can be made online and also they offer Q-Club – Qubus Hotel loyalty programme.
Also, the hotel has won many accolades in various areas including second position in "The best hotel breakfasts" category in comparison carried out by staypoland.com. At breakfast, one can savour the traditional and regional Polish products like sausages, cheeses etc and also continental breakfast with scrambled or hard boiled eggs, hams, cheese, serials and cakes. Even you can make your own fresh orange or grapefruit juice. Fresh loaves of bread/baguettes are made on site, so you can have them nice and crunchy fresh out of the oven. Breakfast is served between 7-10 am on weekdays and is till 11 am on weekends.
In the evening on day one, after taking in the sights, we came back to the hotel changed and went down to relax in the sauna, jacuzzi and swimming pool. We spent up to an hour here. The gym area is small with one treadmill, three indoor cycles, some weights and old-school weight machines. The swimming pool is not so big, about 10 meters long and 5 ft deep. The sauna can house around 4 to 5 persons at a time.
After relaxing here for a while we went on up showered and got ready for dinner. The restaurant was extremely busy to our surprise, but there was a huge group of German tourists. The dinner card consisted of 3 choices of starter, main and dessert to choose from i.e. one from each category. We were offered a pre-starter of cream of potato served with a topping of crispy bacon bits. I then had the Red Lentil Salmon and Cottage Cheese Soup (red lentils, tomato, ginger, curry powder, coriander, roast salmon, cottage cheese); my boyfriend had Roast Beet Cream – roast beets, honey, goat cheese, pear, balsamic cream. For the main course, we both took the Fantasy Barbecue – grilled pork shoulder, pork tenderloin, chicken fillet, bacon, bell peppers, zucchini, barbecue sauce, baked potatoes. For dessert we had the Apple Pie Crumble – apples, cranberries, crumble, meringue and a scoop of vanilla ice cream.
We had a great time staying in this hotel and I especially enjoyed spending time in the fitness centre, which by the way also has a shower, so you don't have to go up to your room all sweaty or dripping. The next day after check-out we left our luggage in the luggage room and only came back for it, later in the afternoon before heading to the bus station to catch our bus back to Krakow.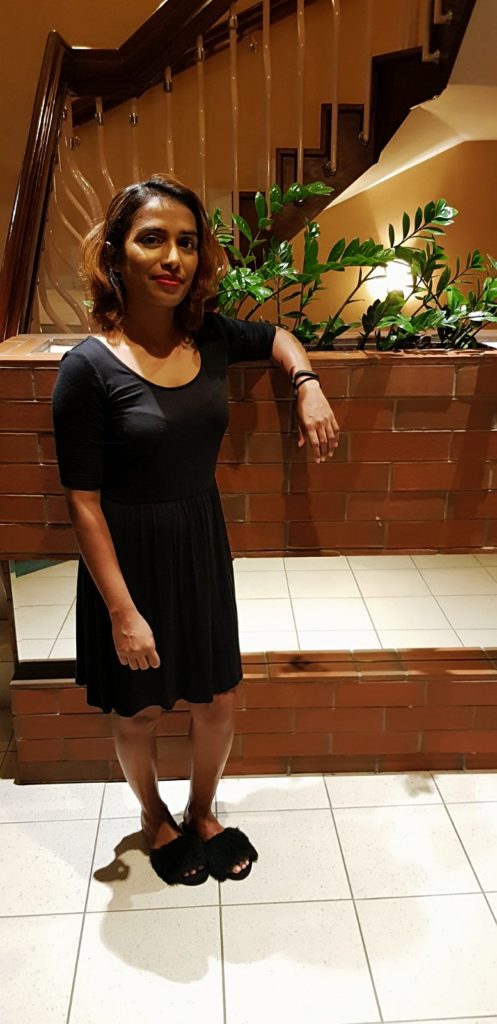 Until next time
xoxo
Doreen
---
---